Marzipan

of the finest quality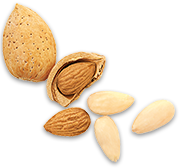 Online Shop
Browse our product range.
Telephone orders:
+49 451 / 5301 - 126 / 127
My name is Johann Georg Niederegger. And this is the history of marzipan. I want to recount it for the benefit of anyone who may be interested. It is common knowledge that the mouthwatering delicacy we call marzipan originates from the Orient.
The world's almond and sugar-growing countries are where it was invented. The Persian physician Rhazes, who lived from 850 to 923, wrote a book extolling the almond and sugar mixture as a remedy for illnesses.